Мар
4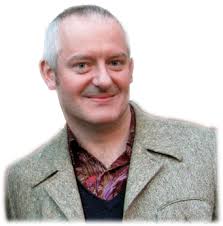 Участников ждёт возможность личного общения с Hugh Dellar, автограф-сессия, уникальная программа и новости современной практики преподавания 
LEXIS, SPEAKING AND THE NON-NATIVE SPEAKER TEACHER
That much of our everyday language use is far more formulaic than traditionally imagined now seems widely accepted. However, there has been much debate as to whether such a view of language has any relevance for non-native speaker teachers (NNSTs) teaching English as an International Language. In this opening session, I'll be explaining the perhaps surprising reasons why NNSTs have the upper hand when it comes to teaching lexically.
THE PROS (AND PERILS) OF BEING A NON-NATIVE
In this second, more hands-on practical session, we'll look at some of the distinct advantages non-native-speaker teachers bring to their classrooms and workshop some ideas around the principled use of L1, the ability to localise examples and root the foreign language in local realities, modelling, and much more. We'll also be looking at some of the potential pitfalls facing NNSTs – and how they can best be avoided.
PSYCHOLOGY AND PROBLEMS IN THE EFL CLASSROOM 
Learning to deal with many and varied problems that the English-language classroom throws at us is something we rarely learn as part of our training, and is often something we simply have to deal with on our own as and when things crop up. In this session, we'll be considering what insights a basic understanding of psychology can give us — and how we might apply these. In this more practical, hands-on session, we'll be considering ten different problems that I've had to deal with during my years in the classroom, and considering possible solutions to each.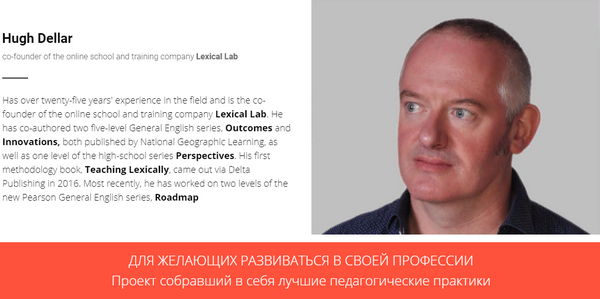 УНИКАЛЬНЫЙ КОНТЕНТ ДЛЯ ТВОЕГО УСПЕХА В ПРОФЕССИИ
КАЖДЫЙ БИЛЕТ ДАЁТ ВОЗМОЖНОСТЬ
Возможность лично посетить мероприятие или присоединиться к онлайн трансляции, электронный сертификат участника, запись конференции, материалы выступлений
ПРОФЕССИОНАЛЬНОЕ РАЗВИТИЕ ДОСТУПНОЕ КАЖДОМУ
КОЛИЧЕСТВО МЕСТ ОГРАНИЧЕНО
КАЛЕНДАРЬ НОВЫХ СОБЫТИЙ ДЛЯ ПРЕПОДАВАТЕЛЕЙ ИНОСТРАННЫХ ЯЗЫКОВ
Share