Фев
25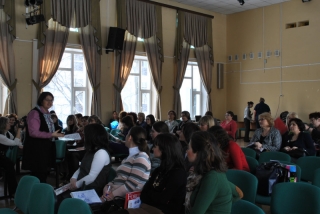 I would like to express my profound gratitude to the English Language Office for the close attention to the problems in EFL teaching, for being so supportive and friendly. The ELO staff inspired the teachers of the center of education #825 and we ended up organizing the meeting for English teachers February 20, 2012. We appreciate you provided FORUM magazine which was a very good present for every participant.
It was such honor for our school to host the EFL teachers' meeting; the excitement surrounding this occasion could be compared with little else.
I am happy to note that this meeting attracted local, regional and international participants. In fact, there were representatives from all Moscow districts, Moscow region, Tula region and even from NY, USA. This event on Effective Ways of teaching writing brought together 48 teachers from all kinds of educational establishment such as schools, lyceums, linguistic centers, language schools, teachers' training institutes and universities.
The program of the event included a plenary presentation by Toni Hull and three concurrent workshops ("Writing for the Russian National Exam (С2 Task)"; "Project works on the basis of interactive technologies",  "Using school-linked projects for writing skills development") by the teachers of the Center of Education #825.
According to the participants the resources we presented during the meeting were beneficial for them and their school communities. They also believed that the certificate of participation signed by Doctor of Pedagogy, Professor and the People's teacher of the USSR Vladimir Abramovich Karakovski and Senior English Language Fellow Toni Hull was a nice reminder of the event.
I'm sure that we were exceptionally blessed and fortunate Toni was with us in spite of her busy schedule and gave us very useful tips and techniques during the plenary presentation.
We are looking forward to new meetings and are open for collaboration!
Natalya Maslova
Share