Апр
14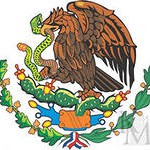 ATOP A NOPAL PEDESTAL
ОРЕЛ, СИДЯЩИЙ НА ПЕДЕСТАЛЕ ИЗ МЕКСИКАНСКОГО КАКТУСА (ОПУНЦИИ) – ГЕРБ МЕКСИКИ
This poem was written after viewing the coat of arms of Mexico. Modern Mexico City lies on the place where an ancient city was built by Toltects.
Once there were Toltecs and Aztecs, the people of courage and might
Led to a promised land by the shining hummingbird god –
Huitzilopochtli, the sacrifice-seeking master of fight
Who created the moon, made fire and heard people's laud.
Soon the city was built where an eagle perched and snake was clawed
With temples to worship the war and the rain
So the Aztecs were feared and the deities were awed –
Civilization of wonders, good luck and pain,
How many dark records do your fables retain?
On this Promised Land as time went on Tenochtitlan arose
Prehistoric, despotic, barbaric first
Now, look, the water of Texcoco so serenely flows.
Its darkness and deities later dispersed
And New Mexico City is no longer accursed.
It stores relics of ruins, old temples and tombs –
How roomy was the cradle for all races to be nursed?
Capital in Movement, hidden in smog of car fumes
Finds pride in its symbol where a nopal blooms.
 By Ivan Mulenkov, Year 7,
School 1738
2013
Share