Апр
26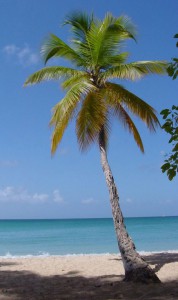 There was a small island named Tanaiya. In the middle there was a beautiful lake of crystal clear water. By the lake there was a small hut in which lived a girl whose name was Aina.
Aina loved nothing more than swimming in the lake all day long. One day, while swimming, she felt something passing by, touching her body. She got such a fright that she stopped swimming, jumped upon the bank and ran towards her hut. Next day it happened again and she saw that it was a water snake.  But Aina wasn't scared this time and went on swimming. It became a daily practice. After a few days both of them started swimming side by side upon the blue lake. One day, after a long swim, when she came out of the water and sat upon the beach, the snake also swam out of the lake. Aina's eyes opened wide in astonishment. The snake changed its shape and within moments there stood before her a man. So handsome was he that she was wonder-struck and could not speak!
He addressed her, "I'm Tuna, the god of water snakes. I've a great liking for you and have really enjoyed swimming by your side. But the time has come so I've to leave you.' Aina asked sadly, "You're going away?" "Yes, because I have to. I can't stay in this shape for a long time."
Next morning Aina's father went hunting. When he came back, Aina saw that he had a water snake. Then he asked her mother to cook the snake for dinner. Oh no! When Aina saw that Mother was busy with the house work, she came up to the snake.
"I have to leave you forever, Aina" he said. "But I wish to give you a gift so that you may always remember me."
 She asked crying, "What's the gift?"   He replied with a smile, "It's difficult to tell you. But you must do as I tell you." Anxious, she asked him to go on. He said, "When my time comes, take my head and bury it near your hut.' Aina was shocked and confused. Suddenly, it started to rain heavily and a terrible storm broke out. The snake's eyes seemed to beg her, "Don't hesitate; don't delay; do as I bade you, please!"
When her Mother hacked off  the snake's head, Aina buried it behind the hut. At that moment the rain stopped, the storm abated and the sun smiled upon the island. After a few days she noticed a sapling grow at the spot where she had buried the snake's head. Gradually it grew into a tall and magnificent coconut tree. Its sweet milky water was refreshing and wonderful to taste.
 The coconut tree, of which every part is useful, is the gift of the god of water snakes. This is the story of the coconut tree that we use now.
By Lida Shemarova
School 1738
2013
Share