Апр
14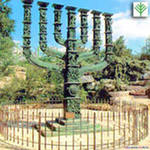 Wedding Traditions
"Mazel Tov!" – "Good Luck!" (события древней историй находят свое отражение в свадебном обряде)
The Jews rebelled against their Roman masters
And saw legions assaulting ancient city
And fatal ruin proved to be the fastest
 When the Temple was destroyed
without pity.
Oh Jerusalem, oh fallen Jewish stronghold!
Your people were enslaved, dispersed or butchered.
The Temple's relics, lampstands made of gold
Displayed in wicked Rome by winners to be touched.
Come to a Jewish wedding, be an honored guest,
Look at the marriage canopy awaiting for the couple.
Enjoy the beauty of the ceremony that is blessed
By God, and He protects the ties from being subtle.
Here comes the moment of the wedding joy,
Which is the moment to remind of suffering and toil,
The cost of peace, of things that we destroy,
With burning Temple at the hills as mournful foil.
 A glass is broken after the ketubah reading –
 The seven blessings end in final loud act –
The groom, who smashes glass with a symbolic meaning,
Makes us remember how Jerusalem was attacked.
All wish the marriage to last long – forever!
All are impressed and all are truly struck;
The glass lies shattered like a crying griever,
But wedding guests call out "Mazel tov! Good luck!"
By Arina Abramova, Year 7, School 1738
2013
Иудеи восстали против римских хозяев
И увидели легионы, атакующие древний город
И губительное разрушение стало быстрым,
Когда храм был разрушен безжалостно.
О Иерусалим, о павшая иудейская крепость,
Твой народ был обращен в рабство, рассеян или жестоко убит.
Реликвии храма – золотые семисвечники –
Победители выставили напоказ в нечестивом Риме, чтобы любой мог их коснуться
Приходите на еврейскую свадьбу, будьте почетным гостем.
Посмотрите на свадебный балдахин, ожидающий молодоженов.
Посмотрите на красивую церемонию, которая благословлена
Богом, и Он защищает узы от непрочности.
Вот наступает момент свадебного веселья,
Который является и моментом, чтобы напомнить о страданиях и тяжелом труде народа,
О цене, которую заплатили за мир и о вещах, которые мы разрушаем,
С образом храма, горящего на холмах как траурный фон.
Стакан разбивают после чтения брачного контракта –
Семь благословений оканчиваются громким действом –
Жених, который разбивает стакан с символическим значением,
Напоминает нам, как Иерусалим был атакован.
Все желают браку длиться долго – всегда!
Все находятся под впечатлением от происходящего, они поражены;
Стакан лежит на полу разбитый, как плачущий и скорбящий человек,
Но гости на свадьбе кричат: «Мазел Тов! Желаем удачи!»
Перевод автора 
Share