Дек
15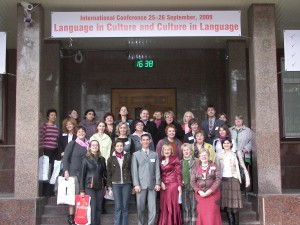 1ST MELTA INTERNATIONAL CONFERENCE
LANGUAGE IN CULTURE AND CULTURE IN LANGUAGE
Moscow,  September 25-26, 2009
The Conference was jointly organized by Moscow Association of English Language Teachers, Institute for the humanities and Informational Technologies and newspaper English of the Publishing House "The First of September"
250 participants of the conference have granted their approval to the conference held and their satisfaction with the ways the conference was organized, hosted and held.
The conference featured plenary speeches during the first day and workshops on the second day by such visiting lecturers as: Michal Snyder (the USA), David Wansborough (Astralia), Neil Ballantyne (the UK), Pexos Kostas (Greece), Bradley Gorsky (the USA), Amara Telleen (the USA)
In their presentations and discussions Russian scholars have underlined the necessity of paying more attention to the development of axiological, cognitive and cultural aspects of English language teaching. The students' awareness of cultural environment is the most important component of language learning.
The conference resolved to hold MELTA conferences once in two years and in the intervals to convene Autumn Forums to discuss the most important issues.
The Cultural program included the net working event, concert and a theatrical performance.
A collection of research articles by both Higher institutions and school teachers has been published.
We are grateful to all the people and establishments who have sponsored and supported the conference: the English Language Office of the American Embassy in Moscow, Cambridge university Press, Macmillan Publishers LTD, British Council, MM Publishers, NATE, SPELTA, CHELTA,  Kalmyk English teachers' association, the institution IGUMO and its Rector Marina Volynkina. We could not have managed without their help.
57 concurrent sessions and workshops were run on the second Conference day according to the topics of the Conference:
Cross cultural Issues
ESP
Teaching  Materials and Resources
Teaching Literature
Language teaching and learning methods
Internet Technologies
Communicative competence
The first MELTA Conference marked the beginning of school teachers' active participation and proved the necessity of the closer link between these two stages of language learning and teaching.
Moscow, November 2009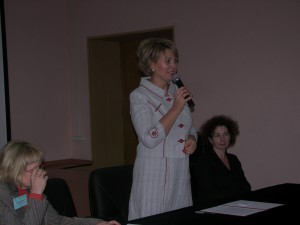 II MELTA INTERNATIONAL CONFERENCE
 CELEBRATING CULTURE AND HERITAGE THROUGH LANGUAGE TEACHING:
 BEST PRACTICES
 MOSCOW, December, 16-17, 2011
VENUE (16.12.11): IGUMO
MOSCOW, VERKHNYAYA PERVOMAYSKAYA, 53
VENUE (17.12.11): secondary educational establishments of Moscow
 CONFERENCE PROGRAMM
Friday, December, 16
13.00 – 14.00 Registration. Book exhibition (Hall 1-st floor)
14.00 – 14.30 Opening Ceremony (Conference Hall)
Marina Volynkina
Artem  Soloveychick
Santos Thomas
Galina Gumovskaya
Ludmila Gorodetskaya
14.30 – 16.30 Plenary Session
Santos Thomas
Toni Hull
Ter-Minassova
Verbitskaya
Solovova E.N.
British Council
American Center
16.30 – 17.00 Coffee-break
17.00 – 18.30 Parallel Sessions
Section 1 (Higher School) Incorporating Cultural Knowledge and Traditions into Education
1.      ЯковенкоЕ.Б. The King James Bible (1611 – 2011):  Historic Impact and a New Worldview.
2.      Gumovskaya G.N. Bible Language: Four Hundred Years after the King James Bible.
3.      Куреня И.В. Имитация эпического языка в псевдоэпосе (на материале номинантов концептов природного ландшафта).
4.      Мартиросян А.А. Категория ритма в композиционном аспекте.
5.      Рыжиков Ю. Трансформация семантики глагола must при выражении эпистемической возможности.
6.      Егорова Инна. Анализ коммуникативной стратегии «Совет» в англоязычном дискурсе.
7.      Volynkina, Ekaterina M., Master of Science.  How Belk's Cycle of Desire Theory Will Help IGUMO in Enlarging the Contingent?
Section 2 (Higher School) Historic and Cultural Heritage and its Assimilation
1.      Shirokikh A.Y. Cultural Background of Legal English Texts in Classroom Context.
2.      Kurenya, Oksana O.  The Typology of Social Functions of Language in the Teaching of Modern Social Linguistics.
3.      Khrabrov, Vadim O.  The Interdependence of Language and Thinking in the Modern Process of Learning.
4.      Бганко О.Д. «Наследие театральной педагогики в  профессиональной подготовке будущего педагога».
5.      А.П.Василевич «Высшая награда страны как отражение национально-культурной традиции».
6.       Яковенко Е.Б. «Культурное наследие северо-восточной Англии  (Йорк – Уитби)  и его освоение:   исторические и  языковые аспекты».
7.       Степанова М.А.  аспирант МГПУ «Понятие культурного наследия в системе ценностей современного французского общества».
Section 3. Language Teaching and Learning Methods.
 English Teachers of Moscow Eastern Administrative Area (Moderator Markova E.S. – 25 people)
 17.00 – 17.40. Concurrent Workshops
Toni Hull
17.50 – 18.30. Concurrent Sessions
1.      Маркова Е.С. Дебаты как эффективное средство развития дискурсивных умений учащихся.
2.      Качалова Ел.Алекс. (ГОУ СОШ 1270). Комплексная диагностика сформированности умений учащихся при ведении дебатов на английском языке.
3.      Магнаутдинова Викт. Романовна. (ГОУ СОШ 1270). Рефлексия как шаг на пути развития учащихся.
4.      Цынкина Екат. Алекс.  (ГОУ ЦО 1485). Формирование умения поискового чтения на уроках английского языка.
5.      Власова Елена Борисовна (ГОУ ЦО 1485). Развитие критического мышления при работе с текстом. 
18.30 – 19.00 Conference Closing. Certificates of Completion/Attendance (Conference Hall)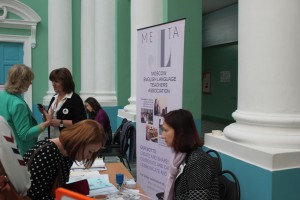 Share