Фев
5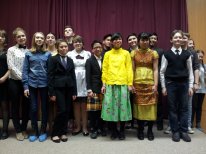 Hear come the results of the Poetry Festival in memory of Alyona Gromushkina, MELTA vice-president, Editor-in-Chief of the magazine English. It turned into international due to active participation of students from Indonesian school in Moscow!
Very talented expressive poems have been composed and performed by all the students on the following topics:
1. Remebrance. The Truly Great BY STEPHEN SPENDER:
I think continually of those who were truly great......
The names of those who in their lives fought for life...
And left the vivid air
signed with their honour...

2. Peace is beautiful.  By H.W.Longfellow:

All your strength is in your union,
All your danger is in discord;
Therefore be at peace henceforward,
And as brothers live together.
Most successful in composition and performance were those, whose names you can see on the coming list. Very soon you will be able to read the poems in the Poetry Album on the site.
Итоги Фестиваля поэзии MELTA 2015
Победители
Муленков Иван

, шк №1738,  9кл, учитель  Ишхнели Ирина Отариевна, 

1место

, Диплом 1 степени

Степанова Дарья

, шк №1208, 9кл, учитель Карелина Наталья Валентиновна,

2 место

, Диплом 2 степени

Цыплакова Арина

, шк №1228, 8 кл, учитель Рохас Ксения Сергеевна,  

2 место

, Диплом 2 степени

PASCAL  ADRIANTHA

, Indonesian School of Moscow, 8gr, teacher Netti Kurniati,   3rd Prize Winner Diploma

Глебова Эллина

, шк №1562, 7 кл, учитель Зубенко Ираида Николаевна,

 3 место

, Диплом 3 степени

Шакарян Григорий

, шк №920, 9кл, учитель  Чепрасова Лилия Николаевна

3 место

, Диплом 3 степени
Лауреаты
Fayzel Fahd Akmal

, Indonesian School of Moscow, 8gr, teacher Netti Kurniati, Diploma in nomination

"Originality of the Work"

NADIF  RIZQULLAH  HALINTA  DARIANDIS

, Indonesian School of Moscow, 8gr, teacher Netti Kurniati, Diploma in nomination

"Emotional Perfomance"

NataniaPutri Marianne Simanjuntak

, Indonesian School of Moscow, 7gr, teacher Netti Kurniati, Diploma in nomination

"Successful Debut"

NATASHA  PUTRI  MARIANNA  SIMANJUNTAK

, Indonesian School of Moscow, 7gr, teacher Netti Kurniati, Diploma in nomination

"Successful Debut"

Абрамова Арина

, шк №1738,  9кл, учитель  Ишхнели Ирина Отариевна, Диплом в номинации

«Оригинальность и актуальность образов»

Баранник Софья

, шк №1208, 10кл, учитель Микунис Наталья Семёновна, Диплом в номинации

«Глубина и своеобразие поэтических образов»

Бастрикина Елизавета

, шк №1738,  9кл, учитель  Ишхнели Ирина Отариевна, Диплом в номинации «Своеобразие сочинения»

Бербекару Артем

, шк №1228, 9 кл, учитель Окшевская Елена Львовна, Диплом в номинации «Оригинальность поэтической формы»

Волков Сергей

, «Первый Московский кадетский корпус», 10 кл, учитель Левчук Светлана Анатольевна, Диплом в номинации «Оригинальность трактовки темы и  исполнения»
 

Звягин Никита

, шк №1228, 9 кл, учитель Окшевская Елена Львовна, Диплом в номинации «Оригинальность поэтической формы»
 

Карпович Александра

, шк 1566, 7 кл, учитель Божко Наталья Николаевна, Диплом в номинации «Успешный дебют»

Милютина Анна

, шк №1208, 9кл, учитель Карелина Наталья Валентиновна, Диплом в номинации «

Эмоциональность образов

»

Нилов Михаил

, шк №1208, 10кл, учитель Кондракова Нина Никитична, Диплом в номинации «

Патриотизм и память

»

Ратникова Валерия

, шк №1208, 10кл, учитель Кондракова Нина Никитична, Диплом в номинации «

Эмоциональность исполнения

»

Стрижова Полина

, шк №1208, 10кл, учитель Кондракова Нина Никитична, Диплом в номинации «

Своеобразие сюжета

»

Тарасова Мария

, шк №1228, 8 кл, учитель Рохас Ксения Сергеевна, Диплом в номинации «Глубокая философская трактовка темы»

Чекмарева Елизавета

, шк №1228, 8 кл, учитель Рохас Ксения Сергеевна, Диплом в номинации «

Оригинальность сюжета

»

Энгельгардт Диана

, шк 1566, 7 кл, учитель Божко Наталья Николаевна, Диплом в номинации «Успешный дебют»
Share