Июн
29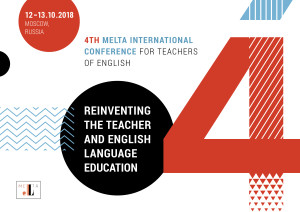 Call for Speaker Proposals and Papers
Dear Teachers of English, Directors of Study and Educators!
We are happy to invite you to participate in the 4th MELTA International Conference for Teachers of English – "Reinventing the Teacher and English Language Education" – which will be held on 12th -13th October 2018 at the National Research University Higher School of Economics.
We are living in the world of ever-expanding innovation and advancing technology: almost each and every day brings new opportunities and new challenges. In order to prepare learners for successful life in such a fast-changing environment, educators should strive to keep up with the pace of time implementing innovative educational ideas but at the same time preserving the best teaching traditions and practices.
This year's MELTA conference seeks to provide the space for English teachers and everyone involved in the English Language Education to come together to reflect, share ideas and come up with new visions of the task and purposes of the Teacher and the English Language Education in the 21st century.
We offer three forms of participation:
A practice-based presentation (a 30-min talk or a 60-min workshop)
Please, fill in the form: https://goo.gl/forms/Us8XDwJ5BpVpPXDu1
A publication* of your article in the Special issue of Bridges magazine
Please, fill in the form: https://goo.gl/forms/Tw8yw3H7Wo9o05qr1
*Successful applicants will be charged a publication fee:
1000 RUB – Non-MELTA applicants
700 RUB – MELTA members
A conference attendee*
Please, fill in the form: https://goo.gl/forms/jby9cR9YO1em978R2
*Conference fees (paid in cash at the venue on the days of the Conference):
500 RUB – All the participants
200 RUB – MELTA members
100 RUB — Students
You can choose one or more forms of participation.
We welcome proposals related to the conference theme — "Reinventing the Teacher and English Language Education" – in the following areas:
General English
Business English
English for Specific Purposes (ESP)
English for Academic Purposes (EAP)
Young Learners / Teenagers
Exam Skills
Content and Language Integrated Learning (CLIL)
Drama and Theatre
Cultural Studies
ELT methodology
Materials and Curriculum Design
Educational Technologies
Gamification
Psychology for Language Teachers and Learners
Neuroscience for Language Learning
Continuous Professional Development (CPD)
Networking (PLN)
Deadline for speaker and paper proposals: 15th September 2018.
Notifications for those who have submitted their speaker and paper proposals will be sent out by 1st October 2018.
Registration for the conference ends: 10th October 2018
Conference Venue: The Higher School of Economics, Staraya Basmannaya St., 21/4
For more information and updates see our website: www.elt-moscow.ru
Share