Дек
10
Congratulations to all the participants, winners and laureates! Your critical thinking, mastery of the language and rhetorics are highly appreciated by the Jury board! For some of you there is still a year ahead to achieve perfection. Invite your friends to participate.
Watch speakers on You-Tube
Your prizes and diplomas will be presented at Gala party on 15 May 2020, 15-30, at the Concert Hall of Russian State Children Library www.rgdb.ru
First and second prize winners, please be ready to deliver your glorious speeches.
All winners  are asked to email the texts to the address of the Contest for publication in journal Bridges.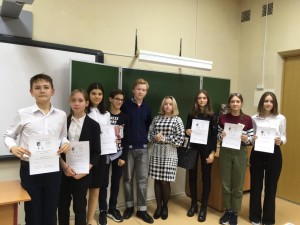 ИТОГИ 15-го ОРАТОРСКОГО КОНКУРСА MELTA 2019 — 2020
 8- 9 классы
Победители
1 место – Новичкова Алина, 9 кл, СОШ 15, «You will never find peace of mind until you listen to your heart», Великотская Кристина Глебовна
2 место – Соловьева Стефания, "Minds are like parachutes-they only function when open", 9 кл школа 1208, Карелин Антон Михайлович
3 место — Старикова Евгения, "Minds are like parachutes-they only function when open",​ 9 класс, СОШ 1699, Сачкова Наталья Александровна
Лауреаты
Диплом в номинации «За искренность и индивидуальность», ​Башмаков Максим, ​​​"It's not the size of the dog in the fight, it's the size of the fight in the dog" Mark Twain 8 кл, ​АНО «Павловская Гимназия», Каратаева Юлия Игоревна
Диплом в номинации «За глубокое раскрытие темы», Косятова Ксения, "You'll never find peace of mind until you listen to your heart", 9 класс, СОШ 1699 Сачкова Наталья Александровна
Диплом в номинации «Успешное использование риторических приёмов»,Щеблякова Елизавета, ​"Always take time to smell the flowers", 9 кл, СОШ 1699, Сачкова Наталья Александровна
Диплом в номинации «За силу убеждения и яркую индивидуальность», Камарян Камилла, ​"Always take time to smell the flowers", 8 кл, Школа №1208, Соколова Анна Александровна
Диплом в номинации «За мастерство риторики», Баязитова Арина, «You'll never find peace of mind until you listen to your heart", 8 кл Домодедовский лицей №3, Галимова Марина Викторовна
Диплом в номинации «За своеобразие исполнения», Алиева Натаван, «You'll never find peace of mind until you listen to your heart", 8 кл, «Бутовская СОШ №2», Брадарская Екатерина Александровна
Диплом в номинации «За убедительное исполнение», Истратова Мария, ​ ​"It's not the size of the dog in the fight, it's the size of the fight in the dog" Mark Twain, 8 кл, ​АНО «Павловская Гимназия», Каратаева Юлия Игоревна
Диплом в номинации «За своеобразие сочинения», Александрова Полина, "Competitive sports can teach us about life", 9 кл, АНО «Павловская Гимназия», Каратаева Юлия Игоревна
10 – 11 классы
Победители
1 место – Елизавета Глотова, "God gives us nuts but we have to crack them", 11 класс, Школа № 1699, Сачкова Наталья Александровна
1 место – Татьяна Матузко, "Minds are like parachutes-they only function when open", 11 класс, Школа № 1699, Сачкова Наталья Александровна
2 место — Степанова Алина, "God gives us nuts but we have to crack them", 10кл, 1208 класс, школа № 1208, Озерова Мария Сергеевна
3 место —  Борисов Вадим, A world is a book and those who do not travel read only one page 10 кл, 1208, Людмила Ифиджен
Лауреаты
Диплом в номинации «За искренность и индивидуальность», Гуцу Анастасия, «The world is a book and those who do not travel read only one page». St Augustine,10 кл «Бутовская СОШ №2», Брадарская Екатерина Александровна
Диплом в номинации «За убедительное исполнение», Дзуцева Анастасия, 11 кл, шк 1208, «Minds are like parachutes​ — they only function when open», Микунис Наталья Семёновна
Диплом в номинации «За мастерство риторики», Кремнева Полина, «Minds are like parachutes — they only function when open» Thomas Dewar, 10 кл, Школа № 851, Догадова Ольга Борисовна
Диплом в номинации «За своеобразие сочинения», Харчук Никита, «Always take time to smell the flowers»11 класс, школа № 1208, Микунис Наталья Семёновна
Диплом в номинации «За глубокое раскрытие темы», Горелова Александра, ​"Always take time to smell the flowers", 11 кл, Школа № 851​, Догадова Ольга Борисовна
Диплом в номинации «За своеобразие исполнения»,Малышева Анна​, ​​​"It's not the size of the dog in the fight, it's the size of the fight in the dog" Mark Twain, 11 класс, СОШ 1699, Сачкова Наталья Александровна
Share